The Fifth Sunday in Lent, commonly called

Passion Sunday


John Chrysostom on the Gospel of John viii 48ff

WE beseech thee, Almighty God, mercifully to look upon thy people; that by thy great goodness they may be governed and preserved evermore, both in body and soul; through Jesus Christ our Lord. Amen.
Source: Sacramentary of Gregory, Bishop of Rome [600 AD]. The people here was familiain Latin. "Passion" had its roots in Mideival times
Deut xviii. 15, Psalm lxxi., Hebrews ix. 11, St. John viii. 46.
Homily of Chrysostom on the Gospel

"Jesus saith unto them, Before Abraham was, I Am.
Then took they up stones to cast at Him."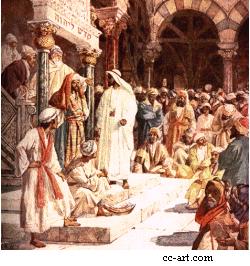 Announcements for the week beginning 26 March 06


Please hold all centurions in your prayers this week. You may like to use this Centurion's Daily Litany

Feasts, Memorials, and Fasts

Sundays are feast days our our Lord throughout the year
Wednesdays and Fridays were days of fasting or absitnance and special devotion in the early church
. Major Feasts and Fasts in bold.
WE ARE NOW IN THE LENTEN SEASON IN THE WESTERN CHURCH. ALL DAYS BETWEEN ASH WEDNESDAY AND EASTER, EXCEPT SUNDAYS, ARE DAYS OF FASTING or ABSITNANCE AND SPECIAL DEVOTION BY TRADITION.

No Commemorations or Feasts:
This Sunday is knows as PASSION SUNDAY, whose roots are medieval, in the traditional schedule and is so called on the Order's Homily page today. Passion Sunday is a term used to denote the fifth Sunday of Lent in the Christian liturgical calendar... It was also known as Judica Sunday, after that day's Introit: "Judica me, Deus" ("Judge me, O Lord") from Psalm 42 (43), and was called Black Sunday in Germany. This alternate name originates from the fact that after Passion Sunday, the Judica Psalm was not said again until Easter; the German title comes from the old practice of veiling the crosses and statues in the church on that day.... When the term Passion Sunday was applied to the fifth Sunday of Lent, it marked the start of a two-week sub-season often referred to as Passiontide whose ligurgical color was crimson
BIDDINGS
Centurions in harms way
Peace in the Mideast