The Second Sunday after Easter
ALMIGHTY God, who hast given thine only Son to be unto us both a sacrifice for sin, and also an ensample of godly life; Give us grace that we may always most thankfully receive that his inestimable benefit, and also daily endeavour ourselves to follow the blessed steps of his most holy life; through the same thy Son Jesus Christ our Lord. Amen.
Source of Collect: Archbishop Cranmer [1549], The Collect calls forth the idea of a lamb in saying that Jesus became a sacrifice for us; and complements the image in the Gospel by following the steps of the Good Shepherd. In those days sheep were not driven; they followed [Barbee and Zahl}
Isaih xl. 1, Psalm 23, 1 St. Peter ii. 19. St. John x. 11.
Homily of Chrysostom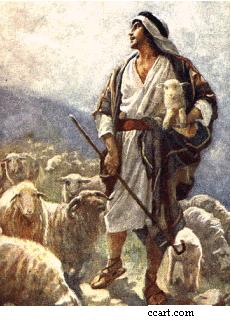 I am the good shepherd:
the good shepherd giveth his life for the sheep


--
IN HOC SIGNO VINCES - TIME DEUM ET OPERARE IUSTITIAM
www.OrderofCenturions.org