IN HOC SIGNO VINCES
"By this Sign, Conquer"
and the
Victory at Saxa Ruba
History of Lactantius
|
History of Eusebius
Liturgy of the Feast of Saxa Ruba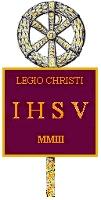 By tradition the Labarum was ordered to be carried before the Legions of Constantine after he had a vision, on 27 October 312, in the heavens of a "cross of light" and the Greek words TOUTO NIKA (conquer by this) and a subsequent encounter with the Lord Jesus Christ who told him to be at peace and conquer under His sign -


IN HOC SIGNO VINCES
.
Constantine directed that a spear be covered in gold with a crosspiece representing a cross, and that the image of the chi-rho, the first two Greek initials in the name Christ, be placed above the crosspiece encircled by a crown/wreath. A banner was to hang from the crosspiece bearing the words of Christ in gold on a purple (red) and gold cloth. Constantine had this labarum carried before his Legions as he defeated a much larger pagan force under another emperor (Maxentius) at
Milvian Bridge
on 28 October. He ordered his men to place the chi-rho on their shields and he wore it on his helmet. Later in Rome, on the Triumph Arc for this victory, he credited divine intervention for his overwhelming victory of a force four to ten times the size of his.


Constantine disbanded the infamous Praetorian Guard, which formed the significant part of Maxentius' force. It had been responsible for so much intirgue, corruption, and imperial murders. He continued his policy begun in 306 in Gaul and Britain of lifting restrictions on Christianity as he occupied various portions of the Empire. In 312 there was the Edict of Milan to end persecution. In 323 when he had finally secured the entire Empire, he removed all restrictions and legalized the Christianity everywhere becoming its patron. Two years later he called the historic Council of Nicea where he moderated the discussion to try to bring unity to the Church.
--
"Let us therefore follow after the things which make for peace, and things wherewith one may edify another" [St. Paul's Epistle to the Romans 14:19]
IN HOC SIGNO VINCES - TIME DEUM ET OPERARE IUSTITIAM
www.OrderofCenturions.org
--
"Let us therefore follow after the things which make for peace, and things wherewith one may edify another" [St. Paul's Epistle to the Romans 14:19]
IN HOC SIGNO VINCES - TIME DEUM ET OPERARE IUSTITIAM
www.OrderofCenturions.org