The Seventeenth Sunday after Trinity
Trinity 17 Home

LORD, we pray thee that thy grace may always prevent and follow us, and make us continually to be given to all good works; through Jesus Christ our Lord. Amen.
Source: Bishop Gregory [595]. "Pevent" meaning to come before from the verb prevenient. This calls to my mind Patrick's Breastplate Christ behind me, Christ before me... and Psalm 139 Thou hast beset me before and behind...
Jereniah xiii. 15, Psalm 25, Ephesians iv. 1 & St. Luke xiv. 1
Homilies


Is it lawful to heal on the sabbath day?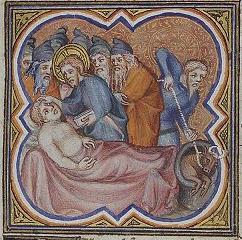 ---
Announcements for the week beginning
8 October 06

Feasts, Memorials, and Fasts
Hugh Canefro of Geona, Chaplain, Religious - October 8th
News: Application / renewal for service as a Labarum Guard being accepted now.