Grace unto you, and peace, from God our Father and the Lord Jesus Christ
News of the Order and commentary appear after the Proper Collect, Epistle and Gospel
The Sunday called Quinquagesima
the Sunday before Lent
Augustine on Psalm xv
O LORD, who hast taught us that all our doings without charity are nothing worth; Send thy Holy Ghost, and pour into our hearts that most excellent gift of charity, the very bond of peace and of all virtues, without which whosoever liveth is counted dead before thee. Grant this for thine only Son Jesus Christ's sake. Amen.
Quinquagesima is 50 days before Easter. Source of collect, Archbishop Thomas Cranmer [1549]. Reflects 1 Cor 13 on Charity. Replaced a Medieval prayer used on Shrove Tuesday, when penitents were shriven, that is absolved, of their sins
Deut x. 12 Psalm 15, 16 | 111, 112; 1 Corinthians xiii. 1. & St. Luke xviii. 31
Homily of Augustine on Psalm XV
Thou son of David, have mercy on me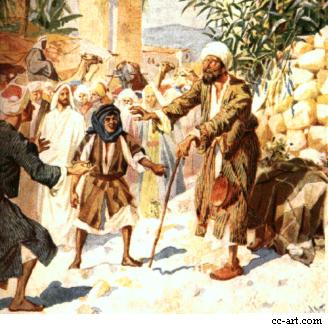 ---
BULLETIN
quotation
We must love both God and our neighbour, and "our neighbour" must be interpreted in its widest sense.… not only those who are connected with us by friendship or neighbourhood, but absolutely all men, with whom we have a common nature, whether they be foes or allies, slaves or free. For the One Maker fashioned us, the One Creator breathed life into us; we all enjoy the same sky and air, the same days and nights, and, though some be good, others bad, some righteous, others unrighteous, yet God is bountiful to all, kind to all…
[Leo, Bishop of Rome, Preached on the Fast of the 10th Month..Advent Sermon XII]
calendar
Ash Wednesday and Lent - 40 days of fasting
Chaplains of the USAT Dorchester February 3rd
Cornelius, Centurion at Caesarea, Bishop - February 4th
news
Mere Christianity now online. Read the commentary for link -- also linked in the Centurion Seminary.
The US services need chaplains! This program is especially attractive to those who are in their senior year of undergraduate training, and would like to attend Seminary as a reserve commissioned officer and Chaplain Candidate. You may receive up to $4,500 each year in tuition assistance in addition to your reserve pay and allowances. Please contact me through the Order if you or someone you know is interested. There are opportunities for both active duty and reserve.
commentary
Quinquagesima is exactly 50 days before Easter. Lent begins on Ash Wednesday for 40 days of fasting and six Sunday feast days. We have a small service at the link above that you may wish to use if your church does not have Ash Wednesday services. If ashes are used, it is traditional to use ashes made from palms leaves left over from Palm Sunday last year.
Last week, we considered Hope. This week, we turn to the last of the three theological virtues, what called Paul the most important of the three: Love. Our collect for this day was written by Thomas Cranmer after careful consideration of 1 Cor 13 concerning Love. Leo addressed the crux of this virtue in our featured quotation above.
Jesus commanded us to love all men. We need not particularly like them, but we must love them -- all. This is not an easy thing, but it is absolutely required. The word used in the New Testament Greek is agape, and it has been defined as a gift love that is not merited, but given freely, just as God loved us sinners and gave his Son for our salvation. [John iii.16]. It is not by any means a sentimental, touchy-feely, group-hug, love as some would have us believe. It has nothing to do with how we "feel" about another or their actions, but is rather a matter of will, intent, and conduct. It has little to do with the "niceness" as defined by modern culture, but certainly embodies those actions listed by Paul in 1st Cor 13. As Christ's soldiers we have our Lord's last command, given on Commandment (Maundy)Thursday at the Last Supper, "This is my commandment, That ye love one another, as I have loved you.". This is not new, as shown in our appointed Old Testament Lesson is Deut xii, were it is written: "Love ye therefore the stranger." Let us consider this to be the "Commander's Intent" of our Operations Order for this Church Militant. May it guide us in our brief sojourn in this in all circumstances, all contingencies.
Psalm XV which is featured this Sunday in Augustine's homily touches on our call to love our neighbors. C.S. Lewis in Mere Christianity counseled that when you find it hard to feel love, begin by acting as a Christian with your neighbor, and you will begin to grow to become the Christian God wants you to be (see quotation at the end). Augustine's exegesis says much the same:
"Who sweareth unto his neighbour, and deceiveth him not." "Who hath not given his money upon usury, and hath not taken rewards against the innocent" (Psalm xv. 5).
These are no great things: but he who is not able to do even this, much less able is he to speak the truth in his heart, and to practise no deceit in his tongue, but as the truth is in the heart…and to do no evil to his neighbour, that is, to any man; and to entertain no slander against his neighbour: all which are the virtues of the perfect, in whose sight the malicious one hath been brought to nought. Yet he concludes even these lesser things thus, "Whoso doeth these things shall not be moved for ever:" that is, he shall attain unto those greater things, wherein is great and unshaken stability.
See the entire homily here. This is a short one.
The rule for all of us is perfectly simple. Do not waste time bothering whether you "love" your neighbour; act as if you did. As soon as we do this we find one of the great secrets. When you are behaving as if you loved someone, you will presently come to love him.
[ C.S. Lewis, Mere Christianity]