Grace unto you, and peace, from God our Father and the Lord Jesus Christ
News of the Order and commentary appear after the Proper Collect, Epistle and Gospel
The Second Sunday in Lent
ALMIGHTY God, who seest that we have no power of ourselves to help ourselves; Keep us both outwardly in our bodies, and inwardly in our souls; that we may be defended from all adversities which may happen to the body, and from all evil thoughts which may assault and hurt the soul; through Jesus Christ our Lord. Amen.
Source: Sacrementary of Gregory - Bishop of Rome. [600 AD] The petition is not only for assualts from without, but also from within.

ALMIGHTY and everlasting God, who hatest nothing that thou hast made, and dost forgive the sins of all those who are penitent; Create and make in us new and contrite hearts, that we, worthily lamenting our sins and acknowledging our wretchedness, may obtain of thee, the God of all mercy, perfect remission and forgiveness; through Jesus Christ our Lord. Amen.
1 Kings viii. 37 Psalm 6, 38 | 119:33–72 1 Thessalonians iv. 1. & St. Matthew xv. 21

Homily of Augustine on Psalm VI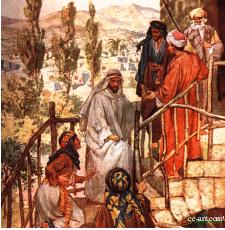 And her daughter was made whole from that very hour
---
We who preach and write books, we write in a manner altogether different from the manner in which the canon of the Scriptures has been written. We write while we make progress. We learn something new every day. We dictate at the same time as we explore. We speak as we still knock for understanding . . . I urge your Charity, on my behalf and in my own case, that you should not take any previous book or preaching of mine as Holy Scripture . . . If anyone criticizes me when I have said what is right, he does me an injustice. But I would be more angry with the one who praises me and takes what I have written for Gospel truth (canonicum) than I would be with the one who criticizes me unfairly.
[Augustine]
The quotation from Augustine is as true today as it was in 400 AD. I echo the words of Augustine to the Order: "I urge your Charity, on my behalf and in my own case." I call on our brothers who are scholars to help us to keep within the bounds of Scripture, and early orthodoxy and catholic faith (approximately the first five centuries).
This is the Second Sunday of Lent and our featured scripture in Psalm VI. It is one of the Seven Penitential Psalms. In the rubric for this Psalm in the version from which Augustine read in his homily today, it was written "in the hymns of the eighth" In our Chapel, we cite eight hymns, and so this might relate to that set of eight.
I've added a rendering of Psalm VI based on Coverdale's Translation into English out of the Latin Vulgate (primarily). The Vulgate would have been a source for Augustine as he was a contemporary in the West with Jerome. He also had available the Septuagint Greek to which he refers in his homily today.
Augustine interprets the opening verses of this psalm with an Early Church understanding of the scriptures concerning the Lord's healing of the saints before their glorification:
"Reprove me not, O Lord, in Thine anger. Nor in Thy rage chasten me."
But they are amended, that is, purged, who "upon this foundation build wood, hay, stubble. For they shall suffer loss, but shall be saved, as by fire." [1 Cor. iii. 11, 12, 13, 15] What then does he pray, who would not be either reproved or amended in the anger of the Lord? what else but that he may be healed? For where sound health is, neither death is to be dreaded, nor the physician's hand with caustics or the knife.
We as humans will add stubble to the Church's strong foundation. That is a just fact we cannot escape. Yet, the stubble will not prevail; not even the gates of Hell can prevail. Through recognition of our fallen human nature and our acts of commission and omission, confession, contrition, and amendment of life, we may look with assurance for our Father's healing hand rather than his wrath.
"Make me whole," he says, "for Thy pity's sake." He knows that it is not of his own merits that he is healed: for to him sinning, and transgressing a given command, was just condemnation due. Heal me therefore, he says, not for my merit's sake, but for Thy pity's sake.
Specifically, for our Saviour's sake, whose one meritorious sacrifice is sufficient for our sins, and not ours alone, but also for the sins of the whole world [1 John ii.2]
Augustine continues through his homily to develop the theme of the redemption of the saints in the Last Day, as opposed to the utter loss and destruction of unrepentant sinners. I highly commend his homily on Psalm VI in this season of Lent.
--
"Let us therefore follow after the things which make for peace, and things wherewith one may edify another" [St. Paul's Epistle to the Romans 14:19]
IN HOC SIGNO VINCES - TIME DEUM ET OPERARE IUSTITIAM
www.OrderofCenturions.org
--
"Let us therefore follow after the things which make for peace, and things wherewith one may edify another" [St. Paul's Epistle to the Romans 14:19]
IN HOC SIGNO VINCES - TIME DEUM ET OPERARE IUSTITIAM
www.OrderofCenturions.org