The Third Sunday in Lent
Homily of Augustine on Psalm LVI

WE beseech thee, Almighty God, look upon the hearty desires of thy humble servants, and stretch forth the right hand of thy Majesty, to be our defence against all our enemies; through Jesus Christ our Lord. Amen.
Source: Saramentary of Gregory, Bishop of Rome [600 AD] In the Gospel today Jesus heals a man possesed, stretching forth his had
ALMIGHTY and everlasting God, who hatest nothing that thou hast made, and dost forgive the sins of all those who are penitent; Create and make in us new and contrite hearts, that we, worthily lamenting our sins and acknowledging our wretchedness, may obtain of thee, the God of all mercy, perfect remission and forgiveness; through Jesus Christ our Lord. Amen.


[Collect of Ash Wednesday said daily until Palm Sunday]

Deut vi., Psalm 56, 86 | 119:73–104 , Ephesians v. 1. St. Luke xi. 14.

Homily of Augustine on Psalm LVI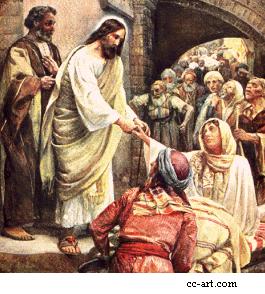 Blessed are they that hear the word of God, and keep it.
BULLETIN
quotation
"If a man loves righteousness, her labours are virtues; for she teacheth temperance and prudence, justice and fortitude, which are such things as man can have nothing more profitable in their life."
[Wisdom of Solomon 8, 7]
news
Web sites for consideration:
Biblical Hermeneutics. Many web resources are listed, and some journals looked interesting. The webmaster's Short Guide to Biblical Interpretation is good and short reading.
CrossMarks - For our preachers, an interesting exegetical site with notes on readings for the Revised Common Lectionary, or listed by book, chapter, and verses
Biblical Words Pronunciation Guide - For our readers/lectors
commentary
Psalm 56 is appointed for this Sunday. It is certainly one that a centurion can embrace to guide them. I think now of our fellow centurions who are in harms way, and this portion of David's psalm:
Be merciful unto me, O God, for man goeth about to devour
me; he is daily fighting, and troubling me. Mine enemies
are daily at hand to swallow me up; for they be many
that fight against me, O thou Most Highest. Nevertheless,
though I am sometimes afraid, yet put I my trust in thee
I have often heard men speak of the natural fear they encounter when in danger, and their ability to continue their mission with a quiet spirit in spite of that very natural fear – we call that courage, and those who muster that strength, "the brave". Fortitude is one of the four cardinal virtues listed in today's quotation from Wisdom. For a Christian, the trust that his eternal destiny rests in God's providence is an aid in time of danger and threat, and well equips him to carry on with that which is before him in the face of adversity.
"My religious belief teaches me that I am as safe in battle as in bed. God has fixed the time of my death. I do not concern myself about that, but to always be ready, no matter when it may overtake me. That is the way all men should live, and then all would be equally brave"
[Lt. Gen. Thomas J. Jackson]