Grace unto you, and peace, from God our Father and the Lord Jesus Christ
News of the Order and commentary appear after the Proper Collect, Epistle and Gospel
The Ninth Sunday after Trinity
Augustine on Psalm XLIV


GRANT to us Lord we beseech thee, the spirit to think and do always such things as be rightful; that we, which cannot be without thee, may by thee be able to live according to thy will; through Jesus Christ our Lord. Amen.

Source Leonine [440-461] taken in the Gelasian Sacramentary [492-496]. One is reminded of Paul's Epistle to Philemon vs 1:6 "That the communication of thy faith may become effectual by the acknowledging of every good thing which is in you in Christ Jesus." The 1662 Anglican Prayer Book revision read "that we, who cannot do anything that is good, may..." The Collect clearly points to God's grace and the work of the Holy Spirit in aiding us to do good. This theme was made a canon in the ecumenical councils and is part of the Order's vow.

2nd Chronicles xviii. 16, 1st Corinthians x. 1 & St. Luke xvi. 1

Homily of Augustine on Psalm XLIV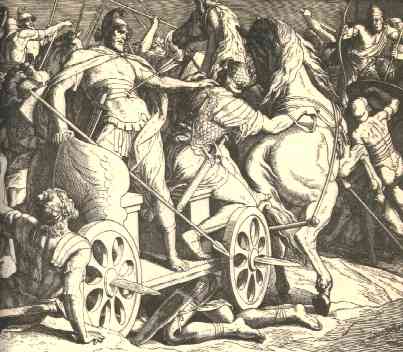 Who shall entice Ahab king of Israel, that he may go up and fall at Ramothgilead?
---
BULLETIN
calendar
quotation
"nor in the state of corrupted nature, can man fulfill the commandments of the law without grace ."
[Thomas Aquinas, Summa Theologica, Q109, Article 4 ]
news
Robert Gagnon defends the true meaning of Paul's words in Romans 1:24-27 in this excellent article in his apologetic. Ecclesia semper reformanda
One of our members recommended this site on the works of

J. E. Lesslie Newbigin http://www.newbigin.net

You will find a wealth of material under the link for Biography.
commentary
Today's homily by Augustine is on Psalm XLIV. This psalm speaks of a great defeat of Israel (vs 10-17). It may point to a military defeat like that which is recorded in 2nd Chronicles xviii, offered today with the psalm for reflection.
Augustine examines all the verses from a Christian perspective. His closing paragraph credits the last verse of the psalm to Christ's the Resurrection and Ascension. Note too Augustine's examination of this verse reflect his strong belief in Grace. He writes:
"Arise, O Lord, help us" (ver. 26). And indeed, dearly beloved, He has arisen and helped us. For when he awaked (i.e. when He arose again, and became known to the Gentiles) on the cessation of persecutions, even those who had cleaved to the earth were raised up from the earth, and on performing penance, have been restored to Christ's body, feeble and imperfect though they were: so that in them was fulfilled the text, "Thine eyes did see my substance yet being imperfect; and in Thy book shall they all be written." [Ps. cxxxix. 16.] "Arise, O Lord, help us, and redeem us for Thy Name's sake;" that is to say, freely; for Thy Name's sake, not for the sake of my merits: because Thou hast vouchsafed to do it, not because I am worthy that Thou shouldest do it unto me. For this very thing, that "we have not forgotten Thee;" that "our heart hath not gone back;" that we "have not stretched out our hands to any strange god;" how should we have been able to achieve, except with Thy help? How should we have strength for it, except through Thy appealing to us within, exhorting us, and not forsaking us? Whether then we suffer in tribulations, or rejoice in prosperities, redeem Thou us, not for our merits, but for Thy Name's sake.
Thomas Aquinas agrees with our need for Grace in today's featured quotation.
Finis