Grace unto you, and peace, from God our Father and the Lord Jesus Christ
News of the Order and commentary appear after the Proper Collect, Epistle and Gospel
Seventh Sunday after Trinity

Augustine on Psalm XXXII

O LORD of Hosts, who art the author and giver of all good things; Graft in our hearts the love of thy Name, increase in us true religion, nourish us with all goodness, and of thy great mercy keep us in the same; through Jesus Christ our Lord. Amen.
Historical Note: Source: Collect composed by Bishop Gelasius of Rome (492-496), in 1549 Cranmer revised the collect to begin with "Lord of all power and might." His "true religion" reminds one of James' epistle and "pure religon KJV [James 1:27]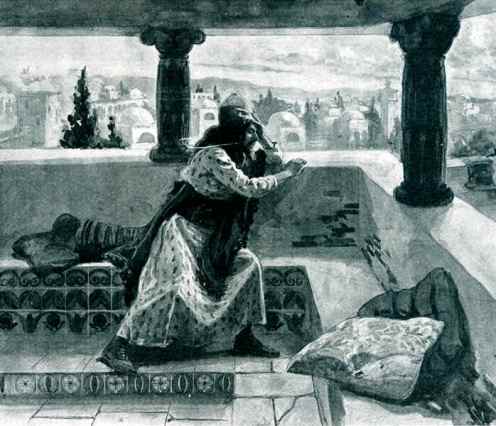 For whilst I held my tongue, my bones consumed away through my daily complaining.
Hosea xiv, Psalms 32, 36 | 33,34 , Romans vi. 19 & St. Mark viii. 1
calendar
Christopher of Antioch -- July 9th
Rodrigo Diaz de Vivar, "El Cid Campeador" - July 10th
William the Silent - July 10th [1584]
quotation
But the diapsalma which separates the two verses forbids our joining them together. One may, with some critics, regard diapsalma as a Hebrew word meaning "So be it," or as a Greek word denoting a pause in the psalmody. Thus psalma would mean what is sung, diapsalma a silent pause in the psalmody; and just as we speak of singing in unison as sympsalma, so a cessation marked by a certain pause or break in the continuity is called diapsalma. Whatever the explanation, be it this, that, or the other, one thing at least is all but certain, that after the diapsalma the sequence is broken and cannot be linked up with what precedes.
[St. Augustine, Enarrationes in Psalmos; in Ps. 4, no. 4; trans. of Scholastica Hergin and Felicitas Corrigan, St. Augustine on the Psalms, vol. 1, Psalms 1-29 (Ancient Christian Writers 29); Westminster, MD: Newman Press; London: Longman, Green and Co, 1960), 43-44]
news
Resource: Chafer Theological Seminary Journal with articles from 1994 to 2004 on line.
commentary
In regard to the quotation above, in today's homily, Augustine used the word "diapsalma". In the text before Augustine there was a diapsalma between verses 7 and 8. One can see how the voice of Psalm XXXII changes from the words of confession to the response of God.
Blessed is the man unto whom the LORD imputeth not iniquity, and in whose spirit there is no guile.
Augustine opens with:
To David himself; for understanding; by which it is understood that not by the merits of works, but by the grace of God, man is delivered, confessing his sins.
David's understanding is by the grace of God, and his forgiveness is not on any account of his merit.
This is an extremely critical doctrine, and was preached by Paul as we see in the scriptures [Romans 3], and held by the early Church. Paul spoke directly of David, probably with this Psalm in mind when he said:
Now to him that worketh is the reward not reckoned of grace, but of debt. But to him that worketh not, but believeth on him that justifieth the ungodly, his faith is counted for righteousness. Even as David also describeth the blessedness of the man, unto whom God imputeth righteousness without works,[Romans 4:4-6]
The Wisdom of Solomon in his prayer at the dedication of the Temple gives us Good News:
What prayer and supplication soever be made by any man, or by all thy people Israel, which shall know every man the plague of his own heart, and spread forth his hands toward this house: Then hear thou in heaven thy dwelling place, and forgive, and do, and give to every man according to his ways, whose heart thou knowest; (for thou, even thou only, knowest the hearts of all the children of men;) That they may fear thee all the days that they live in the land which thou gavest unto our fathers. [1 Kings viii. 38]
David obtained forgiveness, not by words of confession alone, but by the great remorse and contrition expressed in his prayers, while suffering spiritually, and through his ever-present faith in God.
There is no man amongst us who will live a sinless life, before or after accepting Christ as his savior, for none are perfect. There is no man amongst us who can do works worthy to merit any forgiveness. Reconciliation with God is by faith; he knows and forgives the contrite heart [Luke 18:9-14]