Grant, we beseech thee merciful Lord, to thy faithful people indulgence and peace, that they may be cleansed from all their sins, and serve thee with a quiet mind; through Jesus Christ our Lord. Amen.
Source: Sacramentary of Bishop Gelasius of Rome [494AD]. 
Isaiah lix. 15b, Psalms: 120, 121, 122 | 133, 134, 135, Ephesians vi. 10   &   St. John iv. 46 
Homilies
Wherefore take unto you the whole armour of God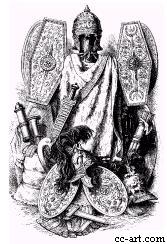 ---

HOMILY
John Chrysostom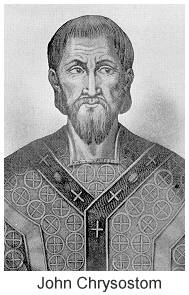 "Let us put on the whole armor of God." Seest thou how he banishes all fear? For if it be possible "to do all, and to stand," his describing in detail the power of the enemy does not create cowardice and fear, but it shakes off indolence. "That ye may be able," he saith, "to withstand in the evil day." And he further gives them encouragement too from the time; the time, he seems to say, is short; so that ye must needs stand; faint not when the slaughter is achieved. 

... If then it is a warfare, if such are the forces arrayed against us, if "the principalities" are incorporeal, if they are "rulers of the world," if they are "the spiritual hosts of wickedness," how, tell me, canst thou live in self-indulgence? How canst thou be dissolute? How if we are unarmed, shall we be able to overcome? These words let every one repeat to himself every day, whenever he is under the influence of anger, or of lust, whenever he is aiming, and all to no profit, after this languid life. Let him hearken to the blessed Paul, saying to him, "Our wrestling is not against flesh and blood, but against the principalities, against the powers." A harder warfare this than that which is matter of sense, a fiercer conflict. Think how long time this enemy is wrestling, for what it is that he is fighting, and be more guarded than ever. "Nay," a man will say, "but as he is the devil, he ought to have been removed out of the way, and then all had been saved." These are the pretenses to which some of your indolent ones in self-defense give utterance. When thou oughtest to be thankful, O man, that, if thou hast a mind, thou hast the victory over such a foe, thou art on the contrary even discontented, and givest utterance to the words of some sluggish and sleepy soldier. Thou knowest the points of attack, if thou choosest. Reconnoiter on all sides, fortify thyself. Not against the devil alone is the conflict, but also against his powers. How then, you may say, are we to wrestle with the darkness? By becoming light. How with the "spiritual hosts of wickedness"? By becoming good. 

Read it all at the link.
Appropriate for this Veterans Day weekend.
Finis
--
Released by Primus Pilus
Legio Christi-Ecclesia Militans
"Let us therefore follow after the things which make for peace, and things wherewith one may edify another" [St. Paul's Epistle to the Romans 14:19]
* ORDO CENTURIONUM * IN HOC SIGNO VINCES * TIME DEUM ET OPERARE IUSTITIAM