Centurions: We see below that A Roman Officer - Gaianus - contributed the money from personal funds to build the Church in Megiddo, and the word "table" rather than "altar" was used in the wording. Note that three women were specifically honored. A better photo of the fish. More to come on this most significant find. Mark
original news source:
http://www.haaretz.com/hasen/spages/641806.html
One of the most dramatic finds suggests that, instead of an altar, a simple table stood in the center of the church, at which a sacred meal was held to commemorate the Last Supper.
Three Greek inscriptions were discovered on the mosaic floor, as well as decorations, geometric designs and a medallion decorated with drawings of fish
Photographs of three Greek inscriptions in the mosaic were sent to Hebrew University expert Professor Leah Di Segni, who told Haaretz on Sunday that the use of the term "table" in one of them instead of the word "altar" might lead to a breakthrough in the study of ancient Christianity. It is commonly believed that church rituals based on the Last Supper took place around an altar.
The northern inscription mentions a Roman army officer who donated the money to build the floor. The eastern inscription commemorates four women, and the western inscription mentions a woman by the name of Ekeptos, who "donated this table to the god Jesus Christ in commemoration."
Please visit the link provided for the complete story.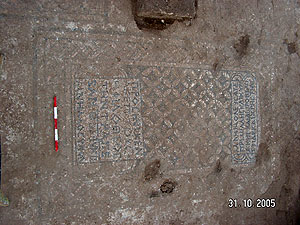 (source: IAA)
I do not know if this is of interst for Christians, however the Hebrew article states the (
eastern inscription
) women`s names were
Primilia, Kirikea, Dorothea and Kresta
– and the
northern inscription
was dedicated by a military officer named
Gaianus
who contributed to the construction of the mosaic floor from his own funds.
Additionally, a large Roman period Jewish ritual bath (miqweh) was found.
Related News Links:
isracast.com
Israel Antiquities Authority.org.il