Alleluia This is the day that the Lord hath made * Let us rejoice and be glad in it. Alleluia
News of the Order and commentary appear after the Proper Collect, Epistle and Gospel
The Fourth Sunday after Easter

Augustine on Psalm CXXVI

ALMIGHTY God, which dost make the minds of all faithful men to be of one will; Grant unto thy people, that they may love the thing which thou commandest, and desire that which thou dost promise; that so, among the sundry and manifold changes of the world, our hearts may surely there be fixed, where true joys are to be found; through Jesus Christ our Lord. Amen.
Source of Collect: Sacrementary of Gelasius [ca 494 AD]. This is the 1552 BCP rendering. The collect was later changed in 1662 so that the attribute read, "who alone canst order the unruly wills and affections of sinful men", in response to the years before when the Church of England, Bishops, and Prayer Book had been suppressed under Cromwell.
Ezekiel xxxix. 21, Psalms 126, 127, 128 129, 130, 131; St. James i. 17. St. John xvi. 5.
Homily of Augustine on Psalm CXXVI
the Spirit of truth... will guide you into all truth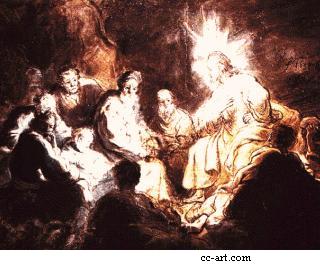 ---
calendar
George, Centurion, Martyr - April 23rd
Sabas Stratilatus, Martyr Aurelian -- April 24 [270-275]
quotation
"Thus says the LORD, 'Stand by the ways and see and ask for the ancient paths, Where the good way is, and walk in it; And you will find rest for your souls.' But they said, 'We will not walk in it.'"
[Jeremiah 6:16 xx]
news
Another good, short article by Peter Jensen of Australia here: Peter asks: "Is it smart to forget God's Wrath?"
commentary
The collect of Bishop Gelasius above asks God to lead us to love that which he commands and to help us fix our heart on him.
Augustine's homily on Psalm CXXVI emphasizes "good works", even in the winter of our lives. He gives credit to God, who through his Holy Spirit, has enabled men to do, in faith, that which is pleasing to God, and it all begins in where one's heart is. Who has your heart? In whose path will you walk?
Guard the mouth of thy heart from evil, and thou wilt be innocent: the tongue of thy body will be innocent, thy hands will be innocent; even thy feet will be innocent, thy eyes, thy ears, will be innocent; all thy members will serve under righteousness, because a righteous commander hath thy heart.
"Then shall they say among the heathen, the Lord hath done great things for them. Yea, the Lord hath done great things for us already, whereof we rejoice"
We can appreciated Augustine's militant metaphor when he wrote, "a righteous commander hath thy heart." That is the essence of our mandate. We salute Jesus the Christ as our Legate. He is our commander and possesses the heart and soul of every true soldier of his Army. He accomplishes his work in and through us by the Holy Ghost, the Spirit of Truth , which silently precedes us as we "look unto Jesus the author and finisher of our faith" The Lord has indeed done a great thing for his elect and therefore we rejoice….Glory be to God: Alleluia, Alleluia.