Thanks be to God which giveth us the victory through our Lord Jesus Christ
News of the Order and commentary appear after the Proper Collect, Epistle and Gospel
The Third Sunday after Easter
ALMIGHTY God, who showest to them that are in error the light of thy truth, to the intent that they may return into the way of righteousness; Grant unto all those who are admitted into the fellowship of Christ's Religion, that they may avoid those things that are contrary to their profession, and follow all such things as are agreeable to the same; through our Lord Jesus Christ. Amen.
Source of Collect: Sacramentary of Leo, Bishop of Rome [440-461AD]. The Vigil of Easter was the traditional time for Baptism, and this collect speaks to the newly baptized "all those who are admitted into the fellowship". One had to be baptized to be present during the Eucharist. Christiana professione censentor
1 Samuel ii. 1b, Psalm 120, 121, 122 | 123, 124, 125; 1 St. Peter ii. 11. St. John xvi. 16.
Homily of Augustine on Psalm CXX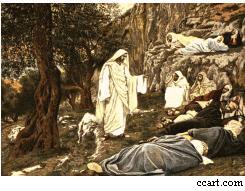 A little while, and ye shall not see me: and again, a little while, and ye shall see me, because I go to the Father.
---
BULLETIN
calendar
quotation
God in condemning hatred requireth love towards all men, even our enemies, yea, so far as to wish health, safety, and all good things to them that wish us evil, and do bear us a hateful and cruel mind, and as much as in us lieth, to do them good
commentary
Leo's collect above asks God help us to follow those things that are agreeable to our profession as Christians. I reflected on this Sunday's prayer as I read this portion of Augustine's homily on Psalm CXX. His exhortation on peace echoes the teaching in the selected quotation from an English catechism and is the essence of Christiana professione.
"With them that hated peace, I was peaceful"
But howsoever ye may hear, most beloved brethren, ye will not be able to prove how truly ye sing, unless ye have begun to do that which ye sing. How much soever I say this, in whatsoever ways I may expound it, in whatsoever words I may turn it, it entereth not into the heart of him in whom its operation is not. Begin to act, and see what we speak. Then tears flow forth at each word, then the Psalm is sung, and the heart doeth what is sung in the Psalm
We see in this verse our Lord's command to love one's neighbor--an element of a centurion's rule-- and in Augustine's exhortation a call to arms. This is a central message of the Gospel. The Christian response to insults, mistreatment, gossip, harm, and malice is not to return injury and insult, not to give evil for evil; but, as Paul teaches, to overcome evil with good [1 Th 5:15; Rom 12:21]. We also remember our Lord's admonishment to pray for those who persecute us [Mt. 5:44]
May God's peace protect you from every harm, every slander, every assault of the enemy and peace-breaker; comfort you; and quicken you toward that perfection that is his will for you toward your neighbor. Amen [Matt 5:48]
pax Christi,