The Collect
Stir up, O Lord, we beseech thee, thy power, and come, and with great might succor us, that by the help of thy grace whatsoever is hindered by our sins may be speedily accomplished, through thy mercy and satisfaction, by...
Latin original Collect:
Excita, Domine, potentiam tuam; et magna nobis virtute succurre: ut per auxilium gloriae tuae, quod nostra peccata praependiunt, indulgentia tuae propitiationis acceleret. Per --
Gelesian Sacramentary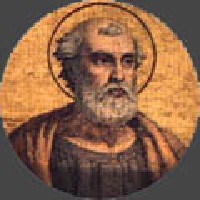 Gelasius
Introit: The heavens declare the glory of God: and the firmament showeth his handiwork….
Epistle: Philippians 4:4-7  Rejoice in the Lord always; and again I say, rejoice…
Gospel: John 1: 19-28  And this is the record of John, when the Jews sent priests and Levites from Jerusalem to ask him, Who art thou?...
See it all here http://www.archive.org/stream/commonserviceb00unknuoft#page/n59/mode/2up
Last week the Introit was from Philippians 4:4ff, and this week it is the appointed Epistle. 
Rejoice! Christmas draws neigh. We are stirred up and exited about the coming event on our feast that is so dear to us. It is the annual remembrance of the coming of our Lord in Nativity.  "Stir up" has been a recurrent theme in these Sundays before Christmas… both for the Lord to stir up his power and might, and to stir up our hearts.
This is not vain repetition of the season. We are persistent in our prayer.  It serves rather to build the expectation of his Advent, past and future. 
The prayer this Sunday focuses on our fallen nature.  We are hindered by our sins, and this is central in this last prayer of Advent.  God, through his Son, will mitigate this awful burden for us.  I am reminded in this season of the novel Christmas Carol by Charles Dickens. I recall that Ghost of Christmas Past whose chains hindered him.  In that same age men of England regularly prayed at church and confessed their "devices and desires of the heart" which led them astray…and prayed that God would restore them who were penitent.  In the same sort of way, this prayer asks that God would come into our lives to mercifully relieve us of sin, and that those good things left undone might be realized expeditiously.
Come Lord Jesus!
Finis
(Portions were paraphrased and passages cited from The Collect of the Day, by Paul Zeller Strodach, 1939, The United Lutheran Press, Philadelphia)  http://www.cyberhymnal.org/bio/s/t/r/strodach_pz.htm
The Ancient Collect: Its history and form
http://orderofcenturions.org/collect-form.html
--
Released by Primus Pilus
Legio Christi-Ecclesia Militans
"Let us therefore follow after the things which make for peace, and things wherewith one may edify another" [St. Paul's Epistle to the Romans 14:19]
* ORDO CENTURIONUM * IN HOC SIGNO VINCES * TIME DEUM ET OPERARE IUSTITIAM