The Collect
Lord, we beseech thee, give ear to our prayers, and lighten the darkness of our hearts by thy gracious visitation; through….
Latin original Collect:
Aurem tuam, quaesumus Domine, precibus nostris accomoda: et mentis nostrae tenebras, gratia tuae visitatonis illustra. Per…
Gelasian Sacramentary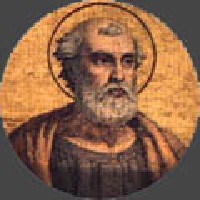 Gelasius
Introit: Rejoice in the Lord always, and again I say rejoice….
Epistle: 1 Cor i:4-5  Let a man so account of us…
Gradual: Thou that dwelleth between the cherubim shine forth: stir up thy strength and come
Gospel: Matt xi: 2-10.. Now when John had heard in the prison the works of Christ…
See it all here http://www.archive.org/stream/commonserviceb00unknuoft#page/n57/mode/2up
This is one of those special Sundays in the year that is marked by the colors used in the Church. It is Gaudete or Rose Sunday.  You may find some of the churches have a rose colored candle in the Advent wreath for this Sunday. The name and mood for his day comes from the traditional introit of "Rejoice"   
The prayer calls for the Lord to visit (visitatonis) us and lighten our darkness. One may be reminded of the many scriptures that bear witness to the reality of Light in his first coming, such as:  Luke i… "To give light to them that sit in darkness, and to guide our feet in the way of peace" Luke ii…"To be a light to lighten the Gentiles" and the promise of his Second Coming.. Revelation xxi, "for the glory of the Lord did lighten it [New Jerusalem] and the Lamb is the light thereof…"
It also a timely prayer with the approach the Winter Solstice.  Its eve is the darkest (shortest) day of the year, and with Christmas, the days become longer (note, old Roman Calendar, Winter Solstice was reckoned on 25 December.)  In the same way that there is a physical darkness in the world, there exists a darkness of every man's heart, which may only be lightened and cleansed by our Lord Jesus Christ for those he has called his own.  The number of verses that deal with the Light of Christ are many: to numerous for this short homily, but let us close with this one
I am the light of the world: he that followeth me shall not walk in darkness, but shall have the light of life.
[John viii. 12)
Finis
(Portions were paraphrased and passages cited from The Collect of the Day, by Paul Zeller Strodach, 1939, The United Lutheran Press, Philadelphia)  http://www.cyberhymnal.org/bio/s/t/r/strodach_pz.htm
The Ancient Collect: Its history and form 
http://orderofcenturions.org/collect-form.html
-- 
Released by Primus Pilus
Legio Christi-Ecclesia Militans
"Let us therefore follow after the things which make for peace, and things wherewith one may edify another" [St. Paul's Epistle to the Romans 14:19]

* ORDO CENTURIONUM * IN HOC SIGNO VINCES * TIME DEUM ET OPERARE IUSTITIAM