Pentecost
commonly called Whitsunday
O GOD, who as at this time didst teach the hearts of thy faithful people, by sending to them the light of thy Holy Spirit; Grant us by the same Spirit to have a right judgment in all things, and evermore to rejoice in his holy comfort; through the merits of Christ Jesus our Saviour, who liveth and reigneth with thee, in the unity of the same Spirit, one God, world without end. Amen.
This Collect is to be said daily throughout Whitsun Week.
Joel ii. 28, Psalm 68, Acts ii. 1. St. John xiv. 15.
Homily featuring Chrysostom on Acts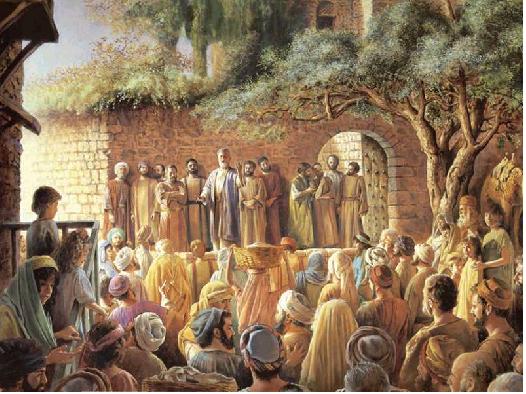 We do hear them speak in our tongues the wonderful works of God
---
Announcements for the week beginning
Pentecost -- 4 June 06


Feasts, Memorials, and Fasts
Sundays are feast days our Lord throughout the year
Wednesdays and Fridays were days of fasting or abstinence and special devotion in the early church. These fasting days were suspended during the Eastertide, but were obsered after Pentecost, beginning with this week, until Christmas. Indeed, during Eastertide, the Church did not kneel on any day, but in the season after Pentecost kneeling was observed on days other than Sunday

Major Feasts and Fasts in bold.


NOTE: We are now in the Season of Whitsuntide, only one week long till next Sunday which is Trinity Sunday. You'll note that there are two Holy Days this week with appointed readings. Whitsun was a popular time for the Whitsun walk in England with the girls all dressed in white, a sign of Baptism and Purity and hence the White Sunday - Whitsun. Whitsun was a popular day for Baptism too, as the church remembered the first mass baptism of over 3,000 on Pentecost. There would also be county fairs called Whitsun Ales (sometimes sponsored by Beer companies) since the Restoration of the Monarchy. The the word pentecost is from the Greek pentekoste. The Feast of Pentecost originated with the Jewish faith and was called the Feast of Weeks (Shavuot), (or Feast of the Harvest, or Feast of the First Fruits), as it occurred exactly seven weeks after Passover. It was a time when Israel commemorated the Ten Commandments and it was called for in the OT. Today our Pentecost is 50 days after Easter - The seventh Sunday. This was one of the major feasts of the early church, and one of the traditional times Christians were expected to commune..( along with Christmas and Easter). Note too that we have the Ember days Wed Thur and Fri, and so I bid your prayers for all our seminarians, and those called to the ministry.


Alleluia. The Spirit of the Lord filleth the world * O Come Let us adore him. Alleluia
Pentecost
Monday in Whitsun Week
Tuesday in Whitsun Week
Ember Days Wednesday
Ember Days Thursday
Ember Days Friday
Ferdinand of Portugal, Knight, Crusader, Prince - Saturday [transferred]
News: new link Red Rampant - the Roman Army Illustrated will be added to links.

BIDDING
Centurions in harms way
Peace in the Mideast